CASE STUDY: High Rise Window Cleaning in Cardiff Bay
LOCATION: 6 storey building, Cardiff Bay
WORK REQUIRED: cleaning windows on all 6 levels
Cardiff Bay area us located in south Cardiff and properti-wise presents a mixture of houses and high rise blocks of flats. Our cleaning team has recently attended one of these buildings to for a window cleaning job.
We have suggested cleaning this building from the ground level, to minimise the costs.
Telescopic & modular high modulus carbon fibre poles were used to clean these high rise windows in Cardiff Bay. High modulus carbon is one of the only materials suitable for high rise window cleaning due to its light weight and high rigidity. This means at such heights the amount of flex in the poles are reduced to enable the correct amount of control of the brush at the top of the window cleaning pole. In the past with mostly glass fibre poles being used due to their low cost, window cleaning at this height from the ground would have been impossible.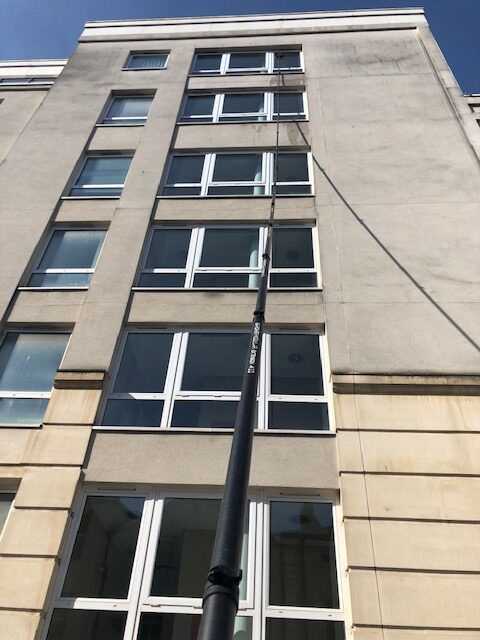 Window cleaning is an essential part of building maintenance, windows deteriorate when they are not cleaned regularly. One of worst parts of a window deterioration is the mineral staining that can appear predominantly at the bottom of windows from rain water splashing up on the window from the window sill. As the water is not pure the impurities cling to the glass and cause a mineral deposit staining which can only be removed with specialist cleaning such as glass polishing or mineral deposit remover. Both mean access would be needed at the level of the window which involves a huge cost in access machinery. A regular clean can prevent these issues.
Some important safety factors to the water fed pole window cleaning method is the user always has their feet safely planted on the ground. Up to the 6th floor there is no need for hire access equipment or road closures etc. Noise pollution is therefore reduced as this method is basically silent apart from the light hum of window cleaning pump contained within the van.
If your windows are up to 6th floor then we can cost effectively clean your windows and frames. The higher the windows the more time is taken to get the windows clean, this is due to the fact that heavily ingrained dirt needs to moistened and agitated via a scrubbing motion with the brush. Due to the height the pressure of the scrubbing action is reduced and therefore increased time is spent to agitate the dirt effectively before being rinsed away with the pure water.
Our team at Cardiff Window Cleaner Ltd can give you a free no obligation quotation for all your window cleaning needs in Cardiff and the surrounding areas.