CASE STUDY: Soft wash roof cleaning in Whitchurch
LOCATION: Whitchurch, CARDIFF, CF14
WORK REQUIRED: Roof Cleaning
The historic suburb Whitchurch is situated in the north of Cardiff. Whitchurch is known for its association to tin mills and also hosting one of the largest working tin factories in the UK. So it's no wonder our client wants to keep the outside of their house looking clean – including the roof!
The Cardiff Window Cleaner Ltd were contacted to clean our client's house roof. Luckily for the client, Cardiff Window Cleaner Ltd's services also expand to performing risk assessments and root cause analysis of the roof to identify the exact growths and organisms infecting the roof surface.
How We Apply our Expertise to Roof Cleaning
First, we perform a preparatory cleaning to remove 95% of surface mosses and lichens before applying the softwash. We take all necessary precautions and measures to protect the garden and surrounds from the softwash, so as to avoid unnecessary exposure.
We use minimum pressures to thoroughly cleanse the roof using the correctly blended softwash detergents.These kill and eliminate spores and bacteria, like gloecapsa magma.
At Cardiff Window Cleaner Ltd, we like to invest in the best equipment on the market and having used a few different roof cleaning brands over the years nothing beats the Marshall Pro equipment for quality and ease of use.
Having the best tools can increase our efficiency and prove to give better value to the customers in the long run. They also cater for every style of tile so rest assured we can get the results you require.
The Marshall Pro scrapers are used at first to remove 95% of the growths on your roof. After this process a chemical treatment known as softwashing is then given to the roof. Over the next few months this will break down what is left of those growths and be rinsed away, ridding the roof of all unsightly growths and organisms and return your roof to its former glory.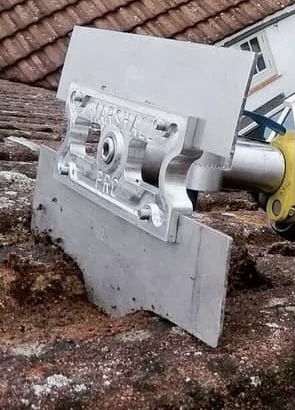 A Growing Industry
Roof cleaning is a growth industry, no pun intended, as people are realising the importance of taking regular care of their roofs.
Neglected roofs can have a disastrous effect on a property, leaking tiles, overflowing gutters or in worst case scenarios, collapsed roofs due to the weight of the moss on old structures.
Mosses, algae, lichens, and other atmospheric growths can cause structural damage to a roof, making their way into the mortar on the ridge tiles and edges, causing them to pop and break their seal.
Bacteria, such as gloecapsa magma, also causes unsightly black staining on a roof. Once a roof becomes covered with moss it is well into its projected life cycle, at which point maintenance and cleaning becomes more essential than ever.
The old fashioned solution is to resort to high pressure cleaning to blast moss from the roof surface. However, high pressure cleaning of aging roofs is an aggressive solution which can cause substantial damage, stripping the layers off tiles and also damaging its appearance. This method of cleaning is not recommended by roofing material manufacturers or roofers associations.
Preventative Measures
We believe at Cardiff Window Cleaner Ltd, that proactive measures are always safer and cost effective than reactive measures.
In order to prevent the build up of algae, moss and other growths appearing on your roof over time, Cardiff Window Cleaner Ltd recommends a biannual softwashing treatment to ensure those growth are kept at bay.
Softwashing is a much simpler and cost effective maintenance solution. A treatment will be applied to your roof and left to work, killing all known organisms that can appear on your roof.
This avoids the years of build up that would develop on your roof over time, preventing damage whilst also improving the appearance of your property, leaving it looking brand new.
Why choose Cardiff Window Cleaner Ltd?
With over 60 years of experience in the cleaning industry, we can use our expert knowledge combined with the right equipment for the job to ensure a job well done. So call Cardiff Window Cleaner Ltd today on 07971048128 or 07976878819 for you free, no obligation quotation.