CASE STUDY: Glass Canopy Cleaning in Crescent
LOCATION: Crescent, Cardiff, CF10 3DD
WORK REQUIRED: glass cleaning, bird dropping removal and disposal
In the west of Cardiff in Crescent, The Cardiff Window Cleaner Ltd Team were assigned to clean the front-end glass canopy of St Andrews House. After winter season, accumulated dirt, dust and bird droppings were giving grubby appearance and blocked natural light.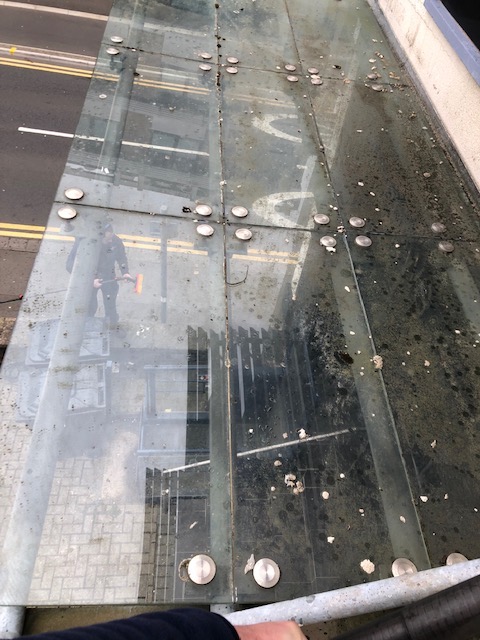 Why it is important to keep glass canopy consistently clean?
If you own a business in Cardiff, you understand the importance of first impressions. Unclean windows and canopies can damage overall image of your company, as it is the first thing your visitors will notice.
Many businesses often neglect regular maintenance and cleaning of canopies which results in filthy exterior. The Cardiff Window Cleaner Ltd team has cleaned all dirt and bird droppings accumulated on the front entrance canopy of the St Andrews House. After the visit of our professional cleaning team the exterior glass was left sparkling and shiny.
Clean canopies and windows can instantly improve the view of your premises, maximising the amount of natural light that flows inside. If dirt and stains are left on the glass for too long, it can be permanently ingrained and leave irreparable damage.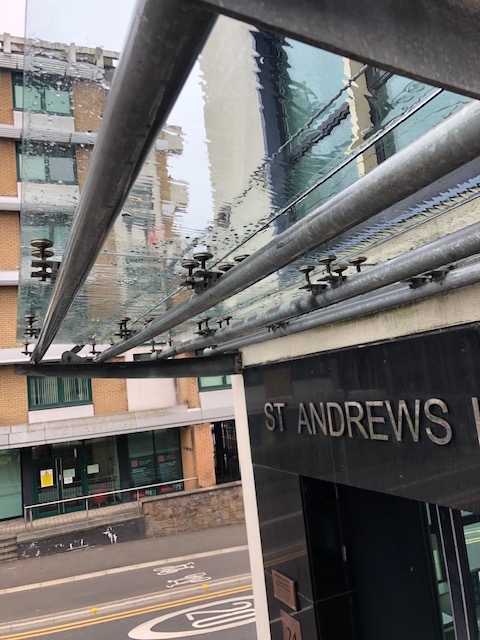 What are the risks of cleaning higher level, difficult-to-reach windows?
Higher level glass cleaning requires specific tools, skills and safety training. It is not a standard window that can be easily accessed and cleaned using cleaning cloth. All higher-level cleaning should be carried by experienced staff to ensure safety and stay in compliance with health and safety legislation.
Cleaning method
Cleaning glass canopy involves high level of risks which needs to be taken into consideration. When cleaning glass always avoid standing directly on it, or leaning a ladder on the glass. If you can, avoid using ladder at all and use telescopic cleanser instead.
Tools Required
To remove all dirt and stains without damaging the glass, it is important to avoid the scraper. On most of the occasions, it can scratch window surface and leave permanent marks. Use telescopic brush to reach glass on the higher-level. At Cardiff Window Cleaner Ltd, we use industrial cleaning products and methods to completely remove dirt from your windows.
St Andrews House glass canopy was cleaned using water-fed pole and professional cleaning products to ensure the best cleaning solution that lasts.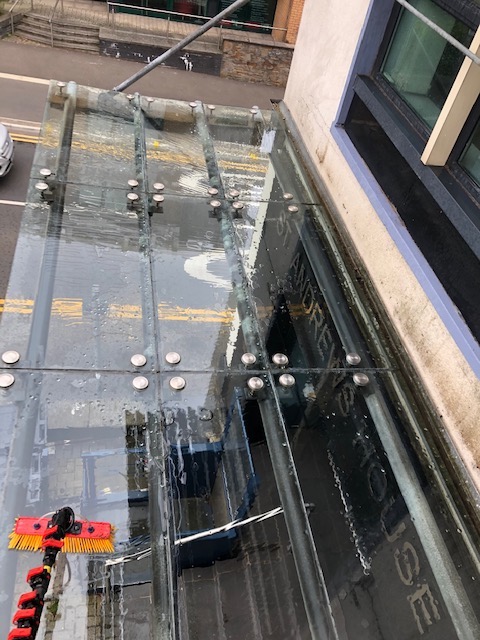 How Can We Help?
If you have a window cleaning project that you would like our help with, why not call the team at Cardiff Window Cleaner Ltd on 07971048128 or 07976878819 for a free no obligation quote for your project.