CASE STUDY: Decking Cleaning in Bridgend
LOCATION: Woodridge, Bridgend, CF31 4PE
WORK REQUIRED: Decking Clean
Cardiff Window Cleaner Ltd carried out this composite decking clean on a property in Bridgend, South Wales.
It's amazing how clean the decking came up as at first glance you could assume this decking wasn't that dirty. Who would have thought it was almost blue in colour whilst looking at the before pictures.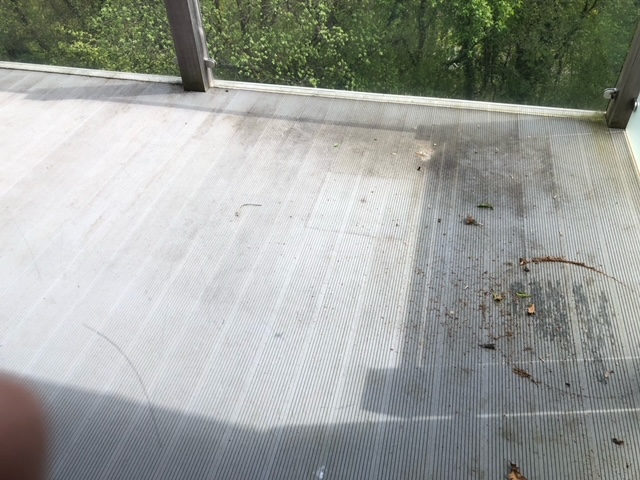 Why should you clean decking?
If left uncared for, a deck will develop permanent stains, splinters and mould. That's because wood, being a porous substance, expands and contracts as temperatures vary.
The expansion lets dirt and grime work their way deep into the wood over time. That grime can also cause your wood deck to warp and rot more quickly.
How to clean decking?
Firstly, move away any plant pots, BBQ, and any furniture. Then sweep the deck using a long handled deck brush, and clear out all of nature's detritus that might have blown or dropped into cracks.
Some cleaners are better at tackling certain jobs than others, so you need to consider what it is you want the cleaner to do. There are lots of common household cleaners that will quickly and easily get your deck looking fresh without requiring a special trip to the store, for instance, oxygen bleach products or baking soda.
Use a pressure washer to loosen and rinse away any dirt or grime. Aim the sprayer directly at heavily soiled spots to remove as much debris as possible. However, keep in mind that there is a risk of damaging the wood, if pressure washer is used too closely.
At Cardiff Window Cleaner Ltd, we have the experience and know how to clean decking with pressure washer without causing any damage.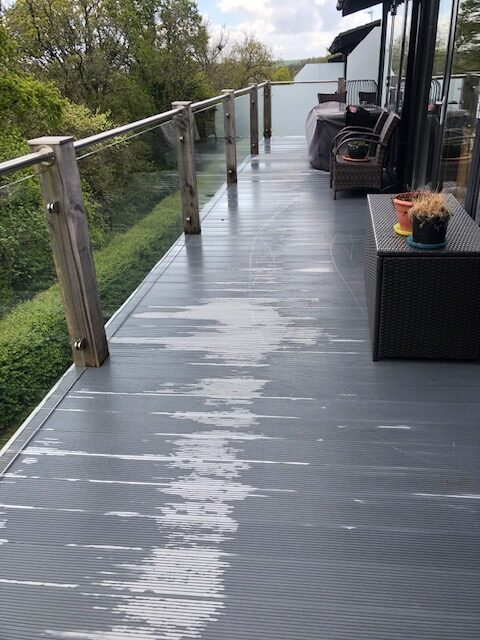 Some of the challenges that we faced were the fact this property was on the second floor of an apartment block but could be overcome with the correct equipment. Using a petrol pressure washer with an extra-long high pressure hose we were able to reach all the areas comfortably.
We moved the furniture to one side of the balcony and pressure washed each section first before moving the furniture to the other side. Whatever the circumstances, they can be overcome with a bit of patience and foresight.
Then, we treated the decking with a suitable detergent which loosens the dirt and lifts any greasy residue or grime, then we pressure washed the area.
When to is the best time to clean decking?
Since your deck is exposed to the elements year-round, regular maintenance is key to its longevity. It is recommended to clean decking at least once per year, the best time to clean decking is in spring. If you do it twice annually, even better – autumn is the other good time to do so.
An annual wash can breathe new life into your deck, preserve the integrity of the wood, and ultimately help to prevent costly repairs.
Tools Required
When it's time to clean the decking in preparation for refinishing, a chemical deck brightener applied by hand-scrubbing may not do the job of deep-cleaning, but a power washer will. The pressure–washer can effectively clean a deck with just plain water.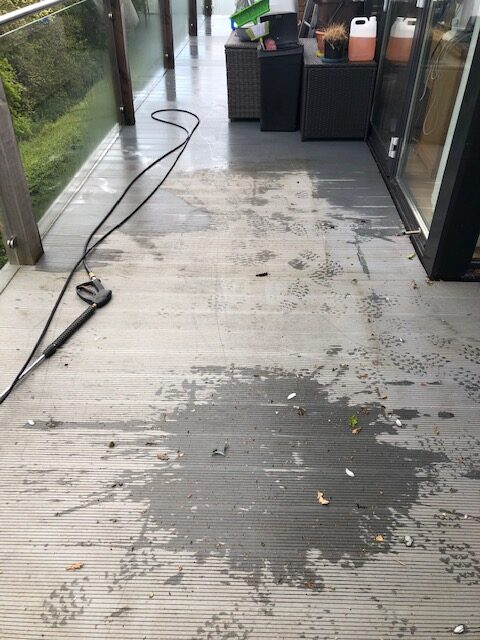 The pressurized water can quickly spray away dirt and grime on a wood deck. When water hits the wood it slightly expands and then can soaked deeper into the wood causing it to expand, warp, and will break apart the wood fibres. If you pressure wash and then put a sealant on before the wood is dried it can seal in moisture which will lead to rot and other problems. Be sure to use this cleaner with caution or trust professionals to do it for you.
Our pressure washing services include:
Render and Stone Cleaning
Hot Pressure Washing
Patio Cleaning
Carpark Cleaning block paving or tarmac
Cladding Cleaning
Roof Cleaning
Chewing Gum Removal
Reverse Graffiti Advertising
Binstore Cleaning
Signage Cleaning
How Can We Help?
Does your decking need a pressure wash? Here at Cardiff Window Cleaner Ltd we have the team to fulfil all your pressure washing needs. Call us for a free no obligation quote on 07971048128.
If you are interested in a service not listed or unsure of what you require please get in touch. Our team of professionals will be happy to advise you on what is the best option.