CASE STUDY: Gutter Cleaning and uPVC Cleaning in Cardiff
LOCATION: Rhiwbina, Cardiff, CF14 6TW
WORK REQUIRED: ingrained build-up of dirt on uPVC, algae removal, heavy soiled surfaces
The Cardiff Window Cleaner Ltd team carried out a gutter clearance and uPVC clean to this property in Rhiwbina, Cardiff.
There were a few challenges to this property such as difficult access to the one side of the property which meant to achieve the desired results some persistence and hard work were needed. As can be seen from the pictures the uPVC was heavily soiled with a few years of ingrained dirt.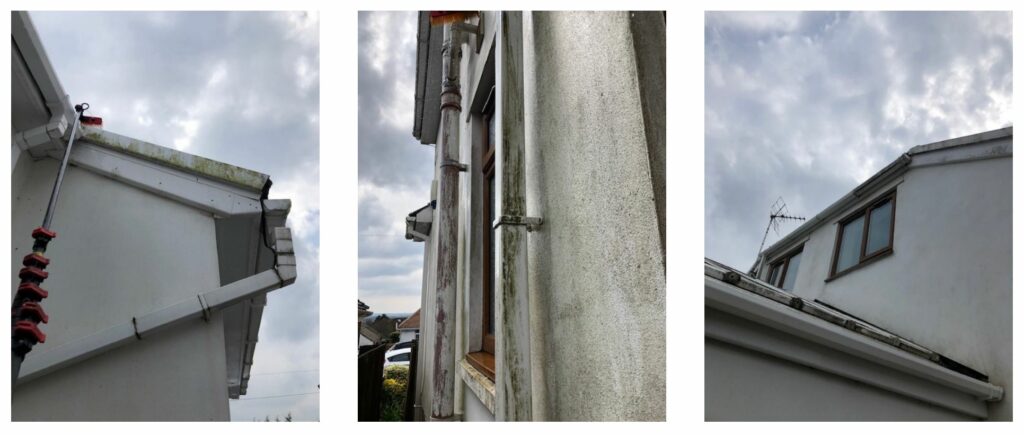 A uPVC clean by the Cardiff Window Cleaner Ltd team includes a thorough clean to Gutters, Fascia, Soffits & Downpipes. It's important when cleaning to ensure all dirt is removed from all the joints and clips as if dirt remains, that tends to be the only thing your eye is drawn to. With our expertise and the correct equipment we can achieve outstanding results for your property.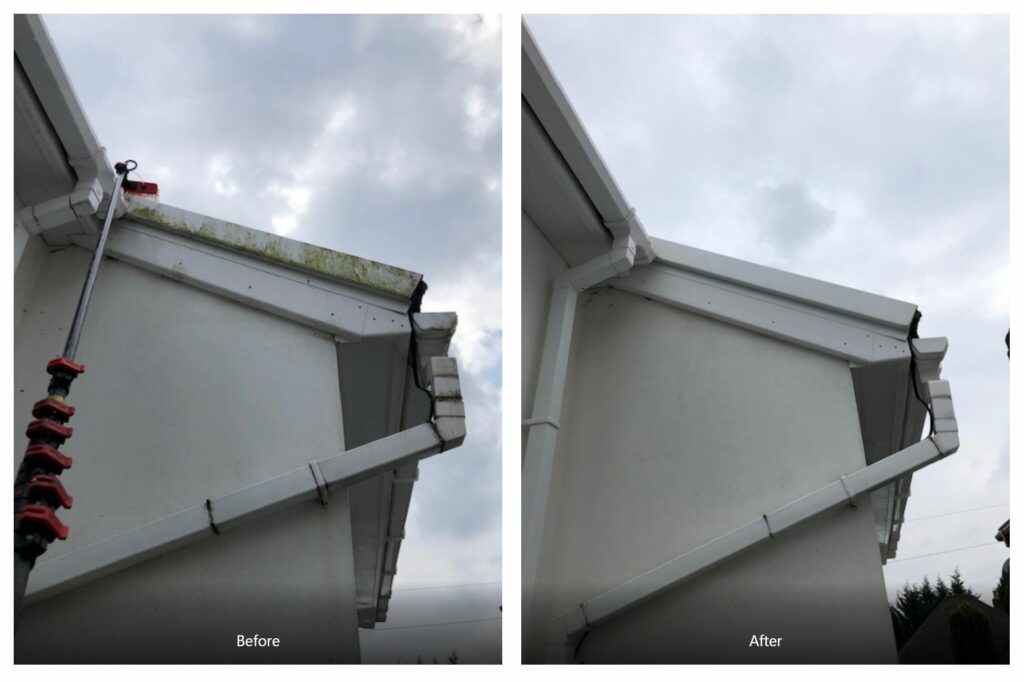 We use a specialised uPVC detergent which helps lift the dirt and algae build up from your plastic. Then using brushes fed with water we are able to scrub and rinse the dirt away without causing any damage to the property and all carried out safely from the ground.
What are the benefits of Gutter and uPVC cleaning?
Gutter cleaning prevents blockages backing up causing overspills, flooding and subsequent expensive damage to external and internal walls, decorations, furnishings and carpets.
UPVC cleaning adds to the appearance of your property. Dirty plastics may also affect the sale of your property. If something as basic as the guttering is not maintained, it could make people question the rest of the property.
Our Gutter Clearing & Cleaning Service
Latest vacuum technology to clear gutters.
Reaches up to 52ft high.
Eliminates the need for ladders and high access equipment when cleaning guttering.
Operators work from safety of the ground.
Reaches previously inaccessible areas.
This method of gutter cleaning is environmentally friendly. Reduced disturbance and maintains privacy.
Ladderless wireless camera survey inspections and recordings of gutter condition.
Complies with health and safety legislation.
Does your property require a gutters, fascia, soffit & downpipe clean? If so then get in touch with the Cardiff Window Cleaner Ltd team for a free no obligation quote.