CASE STUDY: Gutter Clearance and Window Cleaning in Cardiff Bay
LOCATION: Grangetown, Cardiff
WORK REQUIRED: Clearing Out Gutters & Window Cleaning
Thankfully, we, at Cardiff Window Cleaner Ltd. like a challenge. So, when the new property manager, Sarah, got in touch with us to ask if we could help, we were of course interested. She had four apartment blocks in Grangetown, Cardiff, which were in need of some urgent maintenance. Most of the gutters were blocked with debris and vegetation, while the windows and frames had not been cleaned in a good while and were covered in layers of dirt and grime.
An agreed complete price for the work was agreed and the go-ahead given, so Ben and the team set to work.

Job: To clear out gutters to 4 storey apartment blocks followed by window and frame washing.
Ideally, clearance would have been undertaken from a cherry picker but as access at the rear was restricted, this was not an option. Instead, we used our 3.6kw gutter vac with interlocking modular carbon fibre sections and new "slow bend" gooseneck to suck out the muck. The new bend came into its own as it resisted potential blockages remarkably well.
Using our iPhone linked Go-Pro camera, it was possible to check that the job was thoroughly done. The muck collected in the vacuum unit tank removed for appropriate disposal.
With the gutters cleared the windows and frames received a first scrub from ground level to wash away the majority of the dirt build-up.
To complete the cleaning process, the windows received a final clean using water fed poles and of course, pure water.
Another job went to plan, and a number of residents expressed their appreciation for a job well done, so all in all, a good day's work was "under the belt"!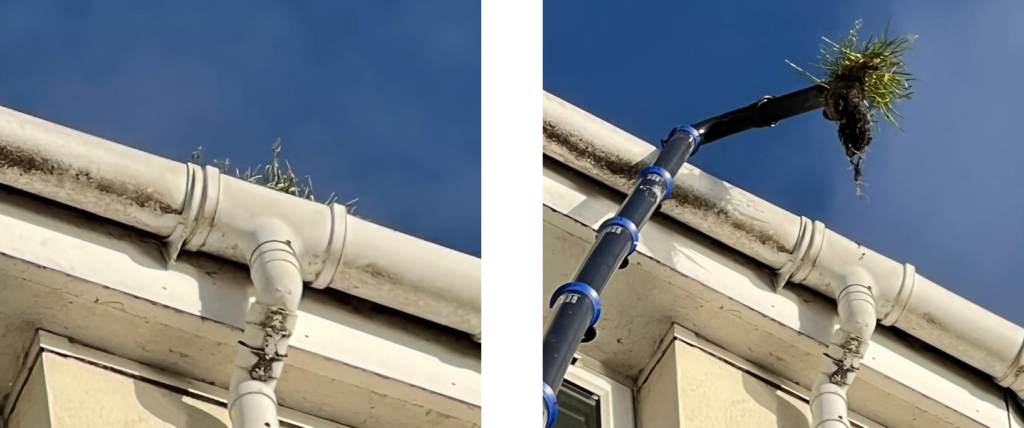 Why ask for a quotation for gutter clearing from "Cardiff Window Cleaner"?
We use a camera to ensure, from ground level that the work has been carried out thoroughly, we don't rely on feel or guesswork.
Price is agreed in advance.
Gutter clearing is carried out from ground level so ensuring the safety of the operative.
Debris from within the gutters is cleared by suction and removed so minimising, if not eliminating mess.
Cherry picker or scaffold hire (at additional cost) is reduced if not avoided totally as it is only required if any broken parts are identified and need to be replaced, or blockages are encountered which are too stubborn to be removed by suction.
Get in touch with us today for a quote.