Velux windows are an elegant addition to any room, but how do you clean them? Depending on the location of your windows, you may decide it's best not to risk your safety up ladders and instead choose to get professional window cleaning – we wouldn't blame you. If, however, you're determined to clean them yourself then the least we can do is help you to get it right.
At Cardiff Window Cleaner Ltd, we know as well as anyone that any window, even when receiving some protection from a soffit above becomes dirty, typically within one to two months. On the other hand, Velux style windows are fitted to the pitch of the roof and are totally exposed and inclined to collect all of that muck in the atmosphere. They're also unfortunately vulnerable to the irritating indiscretions of passing gulls.
What you'll need to clean your Velux windows
Lukewarm water
Alcohol-based household glass cleaner
Soft sponge, cloth or non-metal squeegee
Steps, stall or ladders
Chamois or microfibre cloth
Towel
How to Clean Your Velux Air Filter
The air filter in your Velux window is vital to maintain a constant flow of fresh air. This helps to keep your rooms fresh, avoids the build-up of stale air, and limits condensation which reduces mould, so it's important to keep it clean.
To clean, simply move your window into the desired cleaning position and ensure it's secured with the barrel bolts towards the bottom of the frame. This will stop with window from moving around when wiping etc.
Remove the foam-like filter from its rail and wipe clean with the lukewarm water, soap and a soft cloth. If the filter is in dire need of some thorough cleaning, then you can submerge it completely into the soapy water. Rinse and wipe until the filter is suitably cleaned.
Leave the air filters to dry completely before returning to its rail in the window.
Cleaning Velux Inner Window Pane
Assuming the window position is in an easy to reach place, the task of cleaning the inner pane is simple and manageable. If, however, the window is considerably higher than standing position, please take extra care when using steps, stalls or ladders. We strongly recommend calling the professionals if your safety is compromised.
When cleaning the window pane, it's ideal to place an old towel under the window to catch any dripping water. Move the window into its cleaning position and secure with the barrel bolts.
Before using any water, wipe the window down with a dry, clean cloth to remove any dust or loose dirt. Then, dip your soft cloth into lukewarm water and gently wipe the window down.
You have the option to use just water, or an alcohol-based household glass cleaner. If you live in an area with hard water, we sometimes find that this can cause streaky windows when left to dry. To avoid this happening add a drop of soap into the water and wipe as normal.
To avoid damage to the window please avoid using any sharp or abrasive cleaning materials such as hard scourers. You should also be mindful of any jewellery you are wearing to limit accidental scratches.
Once the window is cleaned wipe down the excess water either with a clean cloth or non-metal squeegee.
Finally, use a clean, dry chamois or microfibre cloth to leave the window dry and gleaming.
Cleaning Velux Window Frames
Cleaning the window frames is extremely simple. Wipe the window frames down with a damp cloth and remove any dirt and dust. Wipe dry with a clean, soft cloth.
Cleaning Velux Outer Window Pane
The same cleaning process for the inner pane should be followed for cleaning the outer pane. The only difference is that cleaning the outside of any window is considerably more dangerous if ladders are involved. We strongly suggest contacting the professionals to get a quote, it might be cheaper than you think and will certainly be a lot safer.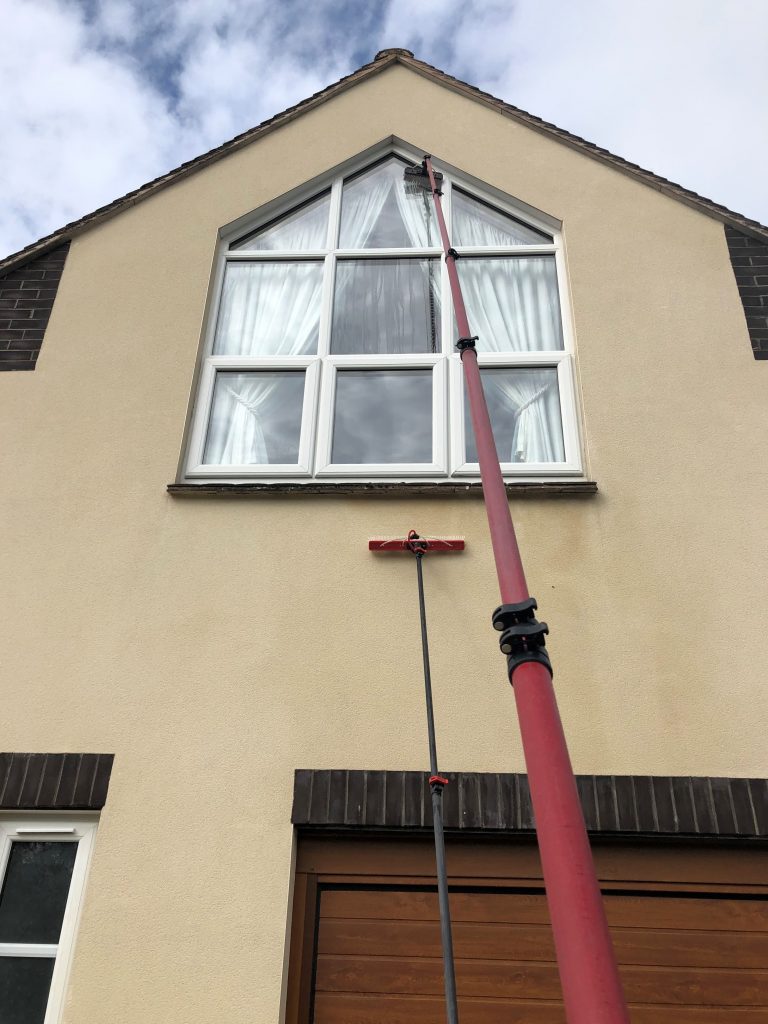 Unless you're a professional, you should never attempt to climb ladders unaided. Avoid carrying a heavy bucket of water up the ladder with you as this could cause accidents. Ideally, you should clean the windows from the ground using a water-fed pole. If you must use a ladder always ensure there is someone helping to steady the ladder.
What happens if the Velux windows cannot be accessed from the outside? The clever designers at Velux have incorporated a tilt and turn mechanism so that the outside can be cleaned from the inside.
If a platform is needed to reach the rotated window, make sure to keep your waist height below the lowest part of the window. Give the window a good scrub with soapy water and squeegee it off, but remember, the lowest edge of the tilted window is the top when rotated back so be sure to dry it off first or all of that gathered dirt will drip back down over your lovely clean window.
Cleaning Velux Flashing
Whilst you're cleaning the outer window pane give your flashing a quick once over. This is the part that connects the window to the building. Over time leaves and other debris will gather in the flashing. This should be removed and wiped down at least once per year to allow rainwater to flow freely.
Removing Mould from Velux Windows
If you're victim to excessive condensation in your room, you may in find that your windows start to go mouldy. It's important to get this cleaned before the mould spreads and becomes harder to remove.
You can call the professionals or have a go at tackling it yourself. Whichever route you decide to take, it's vital to see the problem at your earliest convenience and do not ignore it.
Mould can be damaging to our health. It can release toxic substances which cause allergies leading to a runny nose, sneezing, red eyes, skin rashes and in some cases, asthma attacks.
Due to the nature of this substance, please ensure the room is well ventilated and that you wear gloves, a mask and goggles before undertaking any mould cleaning.
When removing mould, a non-abrasive cleaning detergent will be required. Dilute the soap with lukewarm water. Dampen the cloth in the cleaning solution and carefully wipe the affected area. Mould spreads easily so take care not to wipe it around, spreading it further.
Repeat the process until the mould is removed. To avoid further condensation, use a dry cloth to remove any moisture residue, leaving the area as dry as possible.
If the mould around your window is too significant to remove with this process, please call a professional.
To avoid future built up of mould it's important to reduce the condensation as much as possible. Ensure your room is suitably ventilated and keep your air filter clean (see cleaning instructions above).
How Cardiff Window Cleaner Cleans Your Velux Windows
Our preferred method to clean the outsides of the windows is to use a Hi-Mod (to reduce pole sag) water-fed pole. We give your windows a good scrub and rinse with pure water to restore their shine and let all of that dirt drain away through the gutters.
Regardless of which method is used to clean outside windows, clean the insides using alcohol-based window spray and a soft microfibre glass cloth. This way, you will avoid leaving your windows streaky and smeary and avoiding dirty splashes and stains on your hard-to-clean paintwork.
What next
Now you know how to clean your Velux windows you can make the informed decision on whether to tackle the cleaning yourself or contact the people who make it their jobs. When you choose a window cleaning service from Cardiff Window Cleaner, you're not only guaranteed great results but you're also supporting a local business, and that makes you pretty awesome.